Definitely worth posting...

(CNN) -- Around the world, media reaction to the Democrats' victory has poured in, as newspapers and broadcasters reflect on the Barack Obama campaign and the global impact his win will have.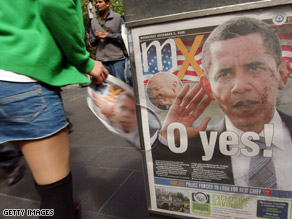 A woman picks up a copy of a newspaper in Sydney, Australia
The
International Herald Tribune
said that America had "leaped" across the color line, calling Obama "a 47-year-old black man who made history both because of his race and in spite of it."
The Times of London said Obama had revitalized U.S. politics. "The immense turnout in yesterday's election was testament to the energy, excitement and expectations of a rejuvenated American democracy, as well as the fears of a nation standing at a crossroads of history," the paper said.
It added that Obama's inheritance would be challenging. "The new president faces economic and social convulsions at home, conflict abroad."
Also in London, The Guardian focused on the historic nature of the Democrats' win, saying: "Victory in the end came as easily as the polls had predicted," and comparing Obama's achievement with Roosevelt's of 1932 and Reagan's of 1980.
In Germany, Der Spiegel's Gregor Peter Schmitz, writing from Chicago, called Obama's rise "astonishing," adding that his "curious ability to remain untouched by all the razzmatazz around him is likely to prove a source of strength."
Al Jazeera said Obama had "surfed to power on a wave of voter discontent generated by the failures of President George Bush and the Republican Party" and added that he faces "unique challenges." It continued that he must "act quickly" to restore confidence in the economy and with his country "sick of war" is "unlikely to make any additional major overseas military commitments."
The Jerusalem Post said that the transition in Middle Eastern policy from the Bush administration to Obama's would be "'evolutionary, not revolutionary,' according to diplomatic assessments in Jerusalem."
Israeli daily newspaper Haaretz called the U.S. election an "example of democracy at its best," citing Americans' "plethora of opportunities" to learn about the candidates' policies and stance on key issues. It also paid tribute to Obama's unifying influence, saying, "Whites and blacks, Jews and Muslims, all decided to give their votes to a candidate who is young, black and lacking in governmental experience," and expressed its hope that the President-elect would "rehabilitate the status of a superpower that remains unrivaled in its influence over the peace and welfare of all humanity."
Jordan's English daily, The Jordan Times, wrote an article entitled: "The American leader we need," in which the writer said: "Around the world, America's presidential election campaign has attracted as much attention as domestic political controversies in each of our own countries. The interest the world has taken in America's vote is the best example of America's soft power, and a lesson in democracy from the world's only superpower. If only we could all vote as well as watch and listen, because the outcome is vital for everyone around the world."
UAE Arabic daily, Al Khaleej considered in its editorial that "whoever is the winner, Israel had guaranteed that the White House will be biased to her."
In Tunisia, the Arabic daily Al Chourouk said: "Today America elects "The President of the World."
China Daily wished Obama well, saying that although it was elated at his landslide win, he faced "daunting challenges." It cited the economic crisis and the Iraq war as the driving factors behind the Democrats' victory, adding: "We have every reason to anticipate a more cooperative and talk-savvy new America."
And The Asia Times heralded the "End of a subprime era," calling the Bush administration "classic American salesmen" for whom "selling was their passion."
The Times of India called Obama an "advocate of strong partnership with India," saying the President-elect had "made it clear India poses no threat to Pakistan." But it also expressed concern about Obama's references to discouraging outsourcing, a policy it says would have an adverse effect on India.
The Kenya Times said Kenyans were "exuberant" and called Obama "the foremost blaze-trailing son of this land," adding that "[he] has convincingly shown that the world could be better through diplomacy than intimidation and arm-twisting tactics."
Japanese news agency Kyodo said Obama's task to repair the economy was "daunting," saying the American sub-prime meltdown had "sent global financial markets into a tailspin."
In Russia, Pravda was ecstatic, announcing that "Eight years of hell are over." It proceeded to catalog George W. Bush's perceived failures and slights against Russia and criticized the cost of the "grand American soap opera" during a time of economic crisis.
Over in Australia, the
Sydney Morning Herald
paid tribute to the Obama campaign, calling it a "stunning grassroots political movement, powered by massive multi-million dollar fundraising." It said his "stunning ascent" to the leadership of a nation "still riven by racial divides" would close an "eight-year era of turbulence under Bush."